$839.00 incl. GST
Altegra 3x3m Heavy Duty Gazebo, UPF50+ canopy, wheeled bag, guy ropes & pegs.
Custom-printing incurs additional cost.
ALTEGRA HEAVY DUTY 3x3m GAZEBO
The Altegra 3×3m Heavy Duty Gazebo - the iconic Australian heavy duty pop up.
A pioneer of innovative design for super robust gazebos, our 3x3m Heavy Duty gazebo is built extra strong for high-demand users.
High-strength 50mm hexagonal aluminium legs are locked to the reinforced aluminium trusses by cast-aluminium joints. Then, topped by the Altegra Elite UPF50+ canopy, our heavy-duty 3x3m encapsulates quality at every component.
Our 3×3m Heavy Duty gazebos exceed commercial Australian Standards compliance, so it's safe and reliable for public events or to keep you well protected in the outdoors. Confidence that comes with a Lifetime Warranty.

$839.00 incl. GST
Altegra 3x3m Heavy Duty Gazebo, UPF50+ canopy, wheeled bag, guy ropes & pegs.
Custom-printing incurs additional cost.
Super Robust Aluminium Frame
Section 238 Standard Compliance
Genuine Lifetime Warranty
UPF50+ Excellent Sun Protection
Heavy Duty 3x3m Gazebo Overview
Our Heavy Duty gazebo and marquee range is popular with those who demand the most out of their equipment. Strength wins over weight in the formula for designing our 3x3m Heavy Duty pop up gazebo.
Every component is built to last – although, not overbuilt so much to forget portability. A Lifetime Warranty ensures confidence.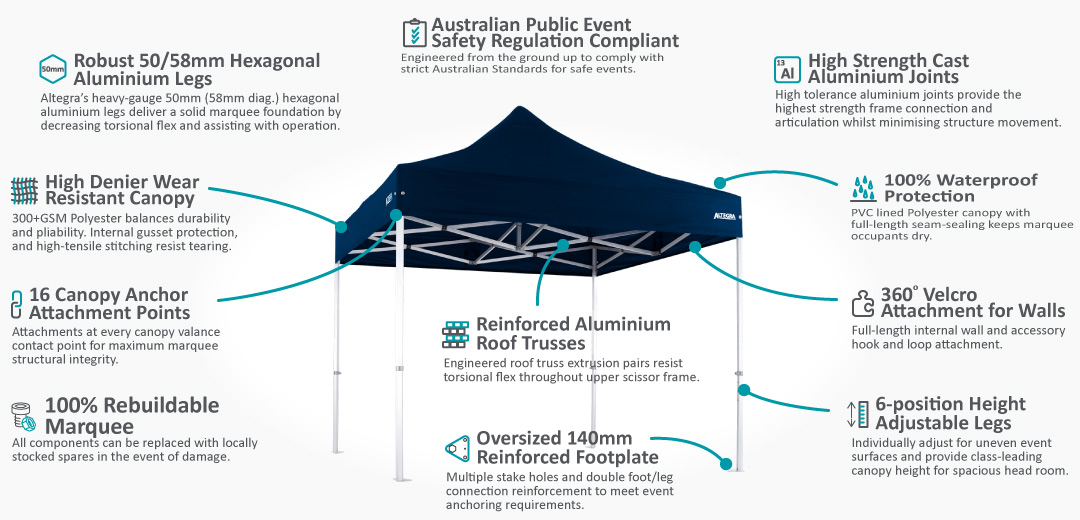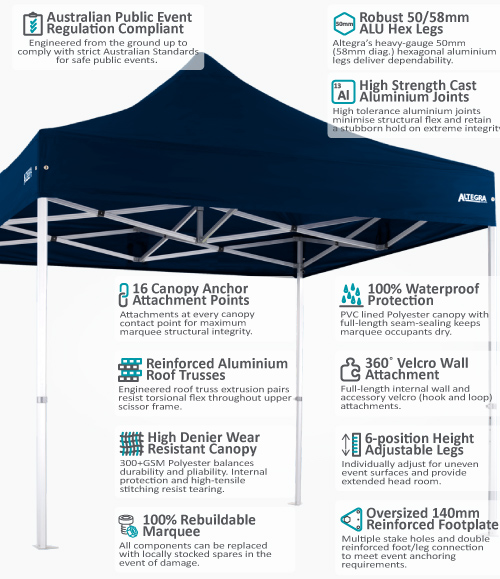 "Hi,
I have an Altegra 50ml heavy duty aluminium 3×3 gazebo, we are on the front row, facing the beach in Portarlington, this year, we had 125 Klm winds and heavy rain for roughly 2.5/ 3 hours, we trusted the gazebo and the way we had tied it down, so we left it standing with its canopy , in the first part of this storm, apart from people who had removed their canopy's, every other gazebo in the caravan park had blown over and was damaged to the point that they owners had to throw them out.

Mine, even although it had suffered the major brunt of the storm, was still standing and in perfect condition,for anyone who knows Portarlington caravan park, you will know, this is a huge park with in excess of 250 caravan sites which were all occupied, do you want a great gazebo? Buy one of these, and it will pay for itself,"
* Comparisons made against other class-leading Altegra gazebos and marquees. See our Compare 3×3 Gazebos page.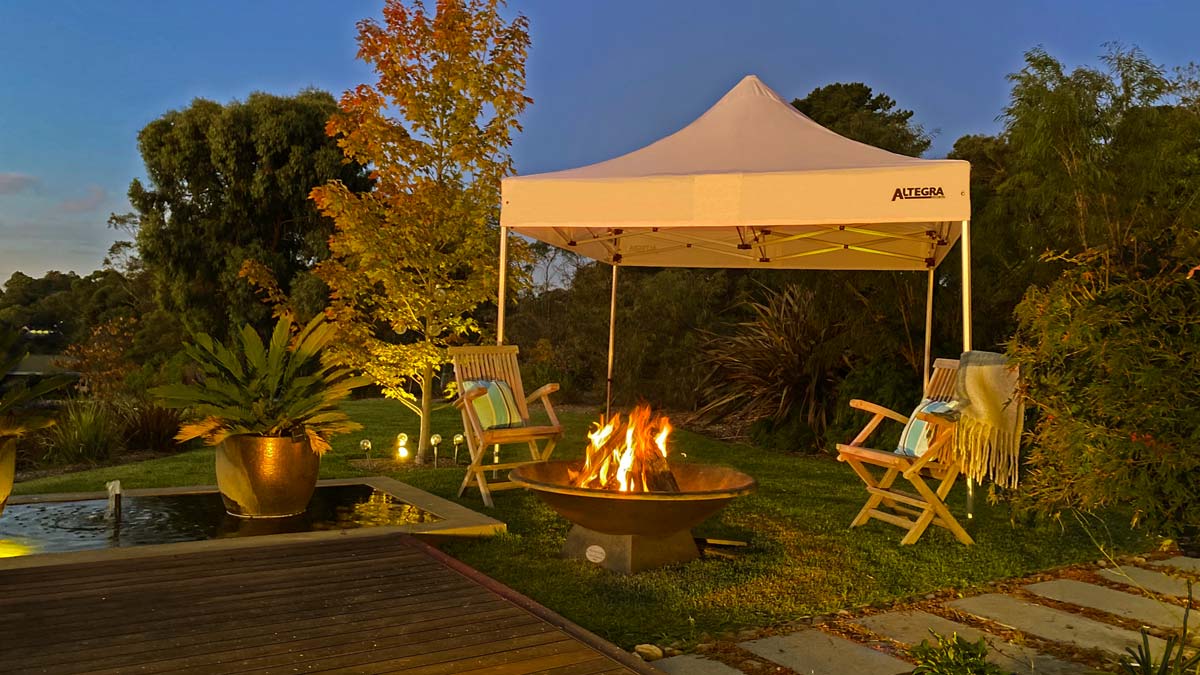 The backyard camping gazebo? Definitely.
The 3x3m gazebo, providing 9m2 of smart sun and full weather protection, is the most popular and versatile size in our range.
Whether it's backyard camping, market stalls, for use as a pit tent, or to show off your brand commercially or competitively, our 3x3m heavy duty gazebo will take it in its stride. And it will keep doing so for years and years. A wise investment.
Built for safety
(Bonus points for style).
  Oversized footplates for safe anchoring on all surfaces
  High strength hexagonal aluminium frame
  Heavy-weight connecting joints
  Canopy attached at 16 points
We also finish our frames and canopy with an air of refinement to help your 3x3m gazebo stand out. The smooth, brushed aluminium on all heavy duty gazebo frame parts provide both form and function – it both looks great and ensures long-term smooth operation.
The Altegra elite canopy material is undoubtedly a stand-out feature that all our customers love. It's a pliable woven polyester that is finished to deliver serious protection. Another Altegra feature that results in stand-out event presences.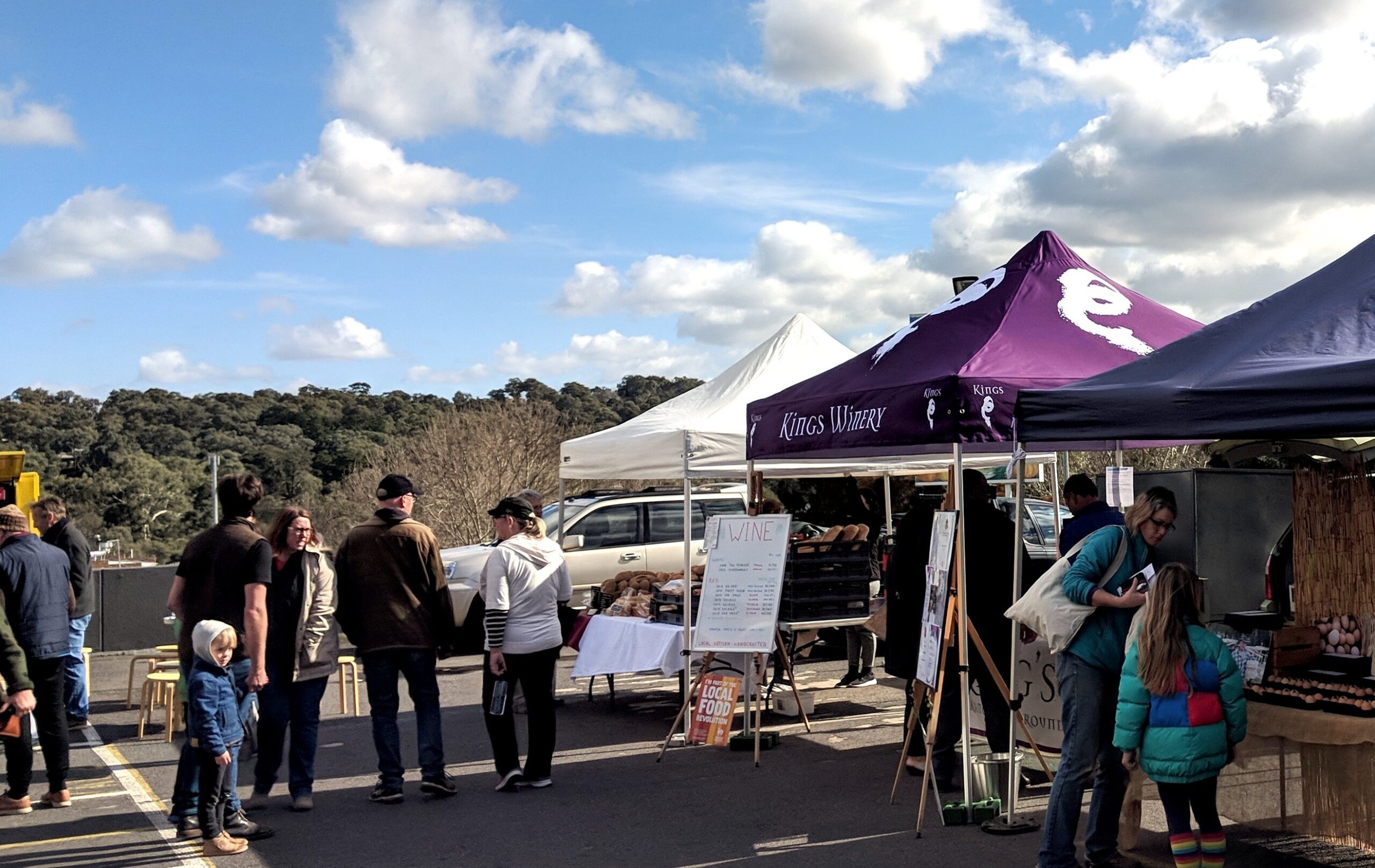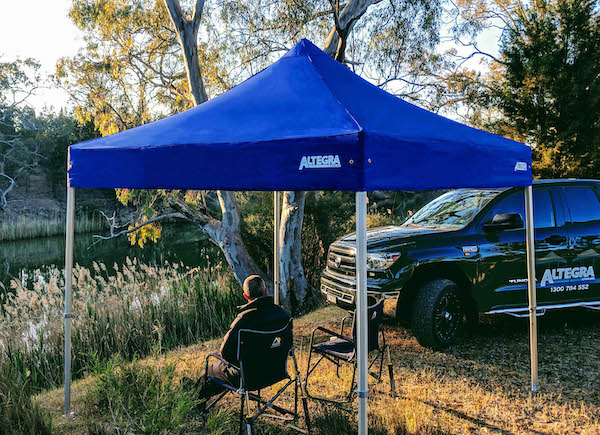 The camping gazebo for when dependability really matters
The seasoned camper, the 4×4 gazebo user, and the serious explorer of our great land know that dependability means everything.
Not only is being caught out with compromised equipment in the bush inconvenient, it can be downright dangerous. Our commitment to continuous testing and refining of our Heavy Duty gazebos has led to extensively dependable pop up tents that we guarantee – for life.
That means safe, satisfying road trips and amazing camping experiences for as long as you enjoy getting out there!
Altegra 3x3m Heavy Duty Gazebo Facts
Click through the tabs below for information on our 3x3m pop up tent.
Specifications
3x3m Heavy Duty Gazebo Specifications
The Altegra Heavy Duty 3x3m Gazebo – premium Australian pop-up tent.

Package Contents
– 3x3m Heavy Duty Gazebo
– 3x3m Altegra Elite canopy
– Nylon Wheeled Bag
– Guy Ropes & Pegs
– Setup Instructions
– Satisfaction!
Frame Dimensions
H x W x D
152 x 32 x 32
(60″ x 12.6″ x 12.6″)
Frame Weight
31kg – Frame Only
Setup Dimensions
W x L = A
3m x 3m = 9m²
~15 people
Canopy Weight
7kg – Canopy Only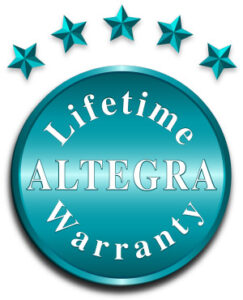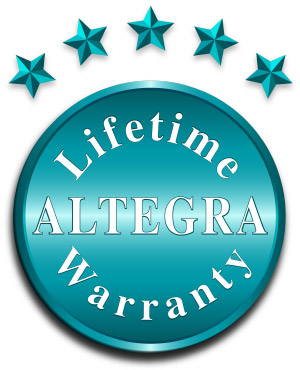 Lifetime Warranty
Confidently backed with our Genuine Lifetime Manufacturer's Warranty.
Learn more about the 3x3m Heavy Duty gazebo by clicking through the tabs above.
Heavy Duty Frame
3x3m Canopy
Custom Printing
Eye-catching Custom-Branded 3x3m Gazebos
Custom-branding for all gazebo canopy panels and walls.
Completely customise your 3x3m gazebo with our expertise.
Custom printing on your pop up tent canopy is our specialty. We work with you to ensure the most eye-catching results so your brand truly stands out.
Using only the highest-quality commercial printing and materials ensures vivid colours, sharp-lines and photo quality images so your custom printed 3x3m gazebos leave a lasting impression.
Custom branded 3x3m gazebos by Altegra stand out among all others. Deliver memorable presences at every event. Enquire today.
Click here to explore custom printing options in our Marquee Builder or find out more in the custom-printing facts, above.
5 reasons Why Our 3x3m Heavy Duty Gazebo
Is A Favourite for Those Who Need Dependability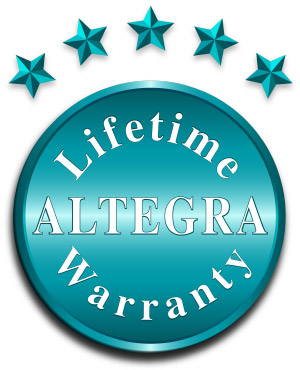 We are the designers, Australian manufacturers, we test for quality and we're the suppliers of your 3x3m Heavy Duty gazebo. An advantage of maintaining control of all our products from design to delivery is that we have complete confidence and will guarantee that they perform as expected.
A "genuine" warranty is one where we genuinely care about the performance of our products and our customers who use them. Therefore, we back our 3x3m Heavy Duty gazebo extensively.
Cast Aluminium frame joints
Our Cast Aluminium Frame joints are steadfast. The frame joint is the most functional component of the marquee, attaching the leg to the upper frame, roof truss to roof truss, and connecting the extendable legs. Substantial forces are imposed upon the marquee joints – therefore, there can be no compromise on strength.
Our heavy duty marquee joints are a harmony of considerable strength and tight tolerance, suppressing superficial movement throughout the marquee. We are proud to state that we have never had an aluminium marquee joint fail and that our 3x3m Heavy Duty gazebos have incredible lifespans.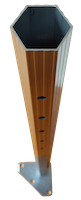 50mm Hexagonal Aluminium Marquee Frame
The heavy-gauge, 50mm Altegra hexagonal aluminium frame commands strength and longevity but retains easy handling. It's in balancing these concerns where our hexagonal frame shade structures shine.
Our 50mm Heavy Duty marquee frame is a carefully engineered combination of aluminium extrusions. We've crafted each leg and truss of the marquee, optimising for strength and smooth operation while ensuring it remains portable. Rest assured, your Altegra 3x3m Heavy Duty gazebo is an investment for many years of reliable outdoor shelter.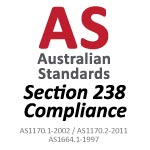 Prescribed Temporary Structures Certificate of Compliance
(Section 238)
By designing and manufacturing our Heavy Duty 3x3m gazebos using Australian safety regulations and our valued customer feedback as the baseline, we can deliver an exceptional product that exceeds expectations. Australia holds exceptionally high safety standards, which forms the backbone of all of the design of our Heavy Duty marquees. Ensuring public safety when using a gazebo at events is an absolute MUST.
Section 238 regulatory compliance is mandatory for public use of 3x3m gazebos in Australia. All our 3x3m Heavy Duty gazebos carry current structural computations from independent Australian engineers authenticating conformance with the Prescribed Temporary Structures requirements.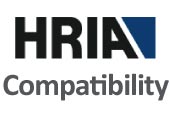 We designed and Manufactured this gazebo to Suit the rigours of high-demand use
Our Heavy Duty gazebos and marquees have been revised through 15 years of improvement to target reliability for frequent use. Our commercial marquee users put our pop-up tents through the heaviest use, therefore, are a valuable source of feedback for product revision and innovation. As a result, all components of our Heavy Duty range are professional grade.
The Hire and Rental Industry Association Australia – HRIA is the authority who advocate for the safe use of portable shade structures. Our recommendations for safe marquee use is based on the HRIA Marquee Weighting Guide and the HRIA Marquee Pegging Guide. Our HRIA customers are among the most frequent users, who expect that their heavy duty pop-up marquees deliver exceptional performance.
Accessories to complement the 3x3m Heavy Duty gazebo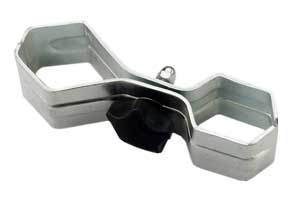 Hexagonal Frame Connector
Connect hexagonal event marquee frames together with our frame connectors.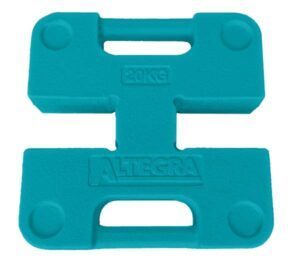 Meet event regulation weighting of your 3×4.5m marquee with our stackable 20kg weights.
Setting up for an event on grass? Reinforce your marquee setup with our spring guy ropes steel pegs.
Improve your heavy duty gazebo portability with 150mm wheels.
All 3x3m Heavy Duty Gazebo accessories can be added to your order through the Altegra Marquee Builder. Visit now to place an order or obtain a quote.
Explore Altegra 3x3m Gazebos and Accessories in the Altegra Marquee Builder:
Are you a victorian community group looking for a marquee?
The Victorian Community Shade Grants program offers assistance for eligible community groups with purchasing portable shade shelters. Our folding marquees are categorised as eligible portable shade shelters and are the preferred solution for many Victorian community clubs.
Unfortunately round 5 – the first of 2020, has just closed. However, this is an opportunity that is on offer until 2023. We are happy to assist you with these applications or recommend a team to provide support for your application.
For detailed information on community grants eligibility, visit our shade grants information page or contact us.