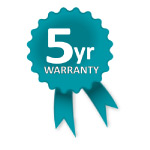 5 Year Genuine Manufacturer's Warranty
We are the designers, Australian manufacturers, we test for quality and we're the suppliers of your lightweight Pro Lite 3x6m marquee. An advantage of maintaining control of all our products from design to delivery is that we have complete confidence and will guarantee that they perform as expected.
A "genuine" warranty is one where we genuinely care about the performance of our products and our customers who use them. Therefore, we back our Pro Lite 3x6m folding marquee extensively.